What is the SRP (Search Results Page)?
What is the SRP (Search Results Page)?
Updated by Patrick Mares
The SRP (Search Results Page) displays core Inventory item and New Model brochure unit details and CTAs.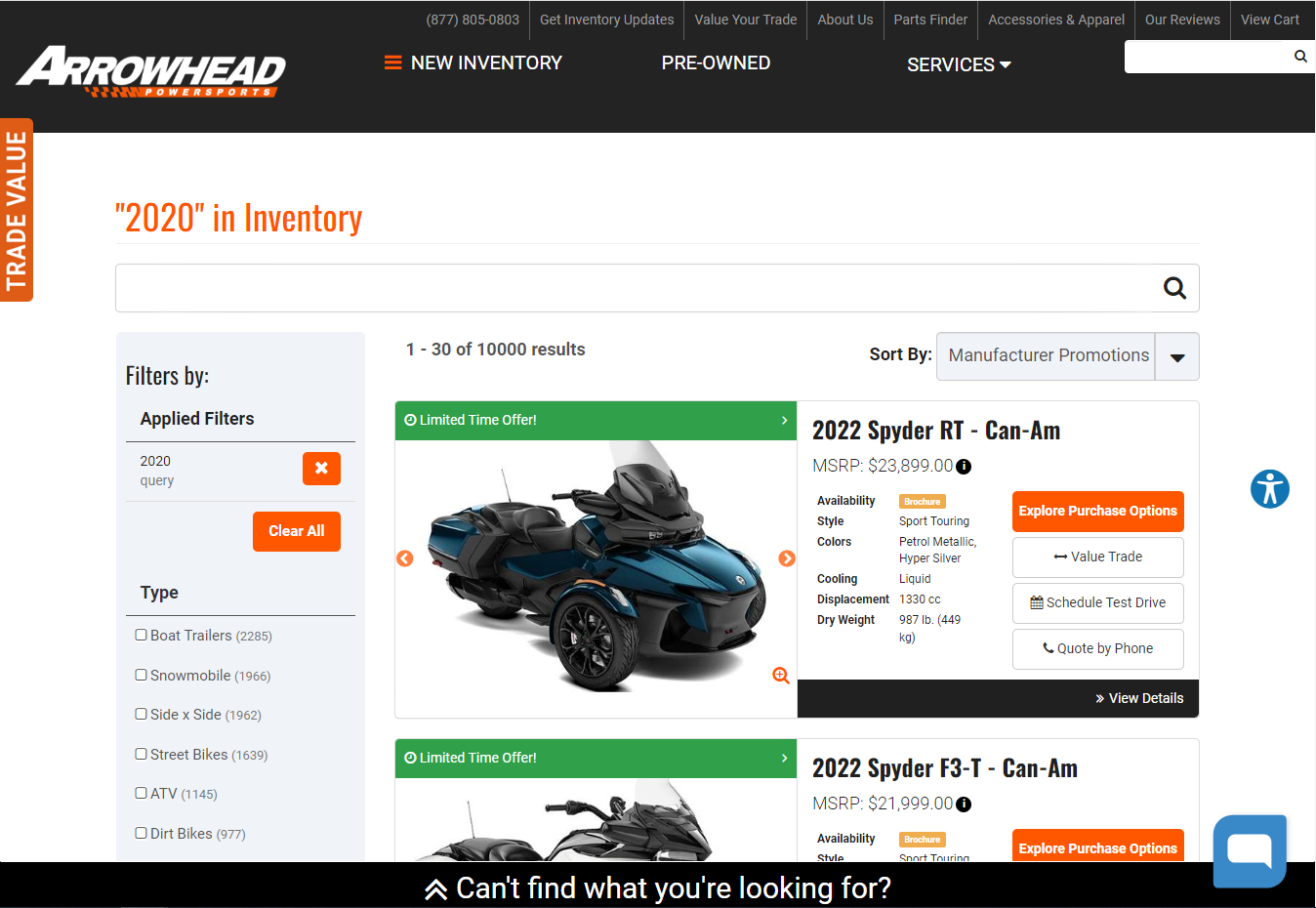 Search and Filter Options
Searches from the SRP and any search bars not on Ecommerce website pages return matching Inventory or New Models items.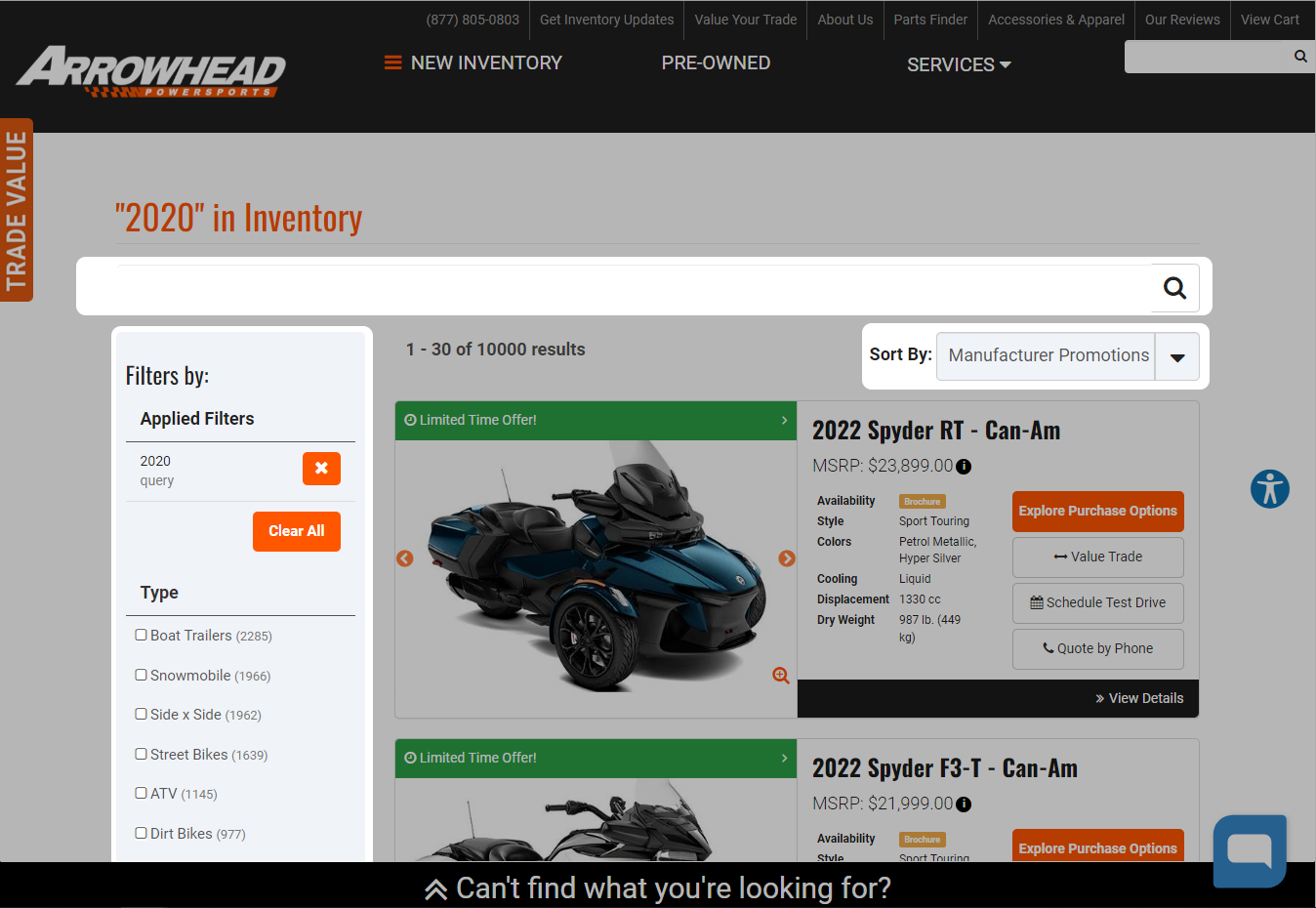 Search Bar: The search bar next to the magnifying glass icon allows users to update search terms within the SRP.
Sort By: This dropdown on the top-right allows users to select how displayed units are sorted. The default sort option can be chosen under Content > Search Configuration. Available orderings include:

Best Match
Recommended
Price: High to Low
Price: Low to High
Year: Newest First
Year: Oldest First
Most Discounted
Factory Promotions

Filters: Text boxes and checkboxes on the left allow customers to add or remove search refinement filters. Options vary depending on industry. The powersports site above offers: Type, Usage, Brand, Class, Model Year, Inventory Status (Brochure or In Stock), Showroom, Industry, Price (Min and Max)
Inventory and New Model Listings

Inventory (Left) and New Model (Right) listings on the SRP put the information most important to your customers front and center including:
A focus on unit images.

Next/Previous image arrows and image magnification button give easy access to all unit images from the SRP

Core CTAs allowing conversions directly from the SRP.
A clear and obvious unit name.
Dealership Price, including any sales or offers currently active.
Availability (Including In Stock and Brochure).
Basic unit information: this differs by vertical and includes Usage, Stock #, Color, Style, VIN, Cooling, Displacement, and Dry Weight above.
View Details: a link to the VDP (Vehicle Display Page) with additional unit information, CTAs, and a bookmark friendly URL.
What if my SRP looks different?
The new SRP offers larger images with carousel features, a built in search bar, and UI in line with the new VDP (Vehicle Display Page) design. If your site uses the former SRP shown below, please wait. Sites are actively being updated to the new SRP design.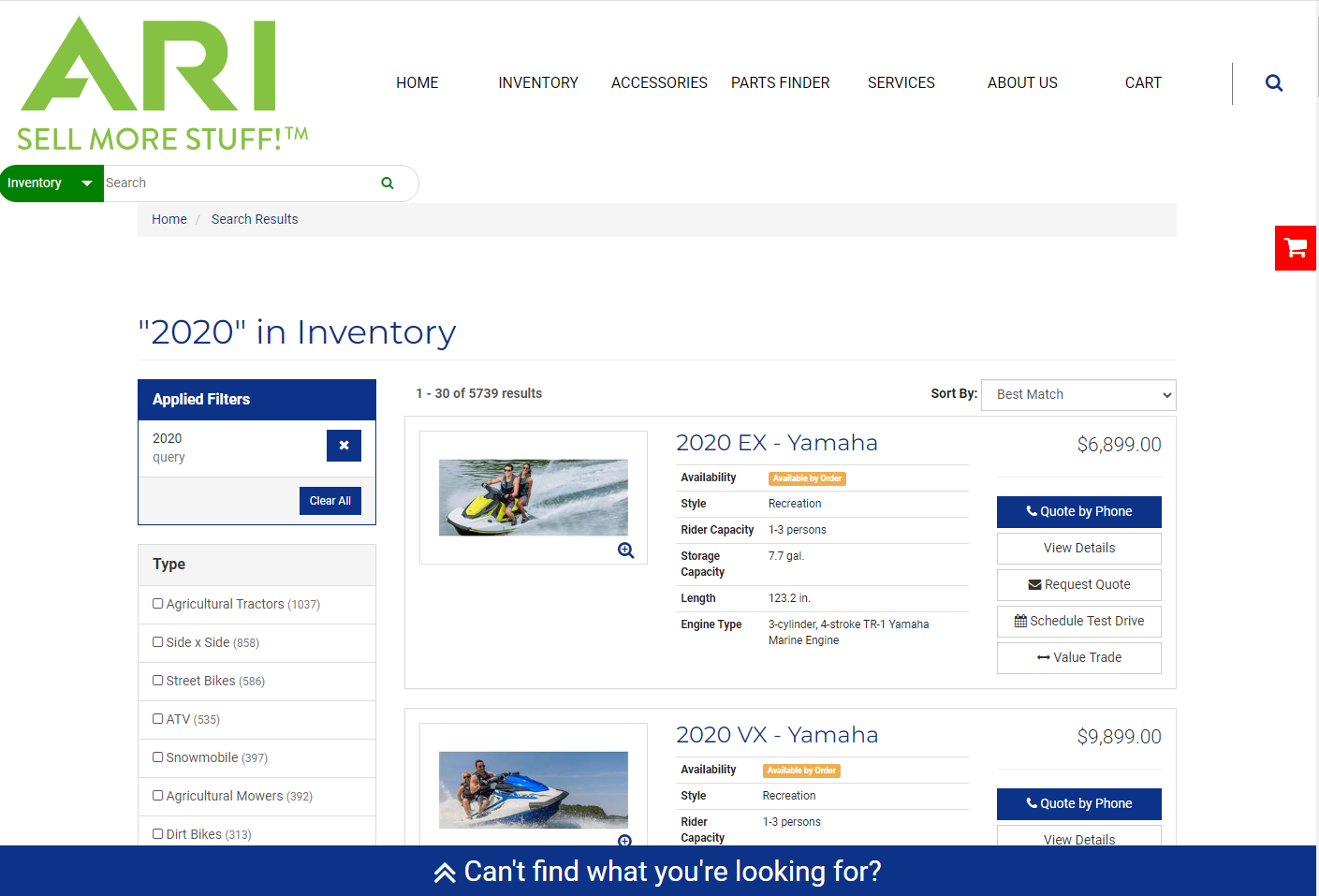 Tell us how to make it better.
Thanks for the feedback!