Managing Responsive Lead Records
Managing Responsive Lead Records
Updated by Patrick Mares
Responsive Lead records can be found under Leads in the main CMS menu.
Please note that a menu item named 
Endeavor Leads
 may also be present in the menu.
Endeavor Leads
contain
Legacy Ecommerce Form
submissions as well as
Form
submissions received on any portal website that you may have.
Finding Leads
If you have any Form submissions with a status of New, they will be listed when the page loads, newest first. You can also search for Leads by using any or all of the refinement menus listed at the top of this page. They are as follows:
Status: Available options are New, In Progress, Test, Complete, Deleted, All.
Form Name: Lists the website Forms that have captured submissions.
Lead Type: Form Names may not always correspond to the information a Form provides. Lead type allows you to select Leads from Forms matching pre-set descriptions instead of searching by Form Name.
Location: If you have more than one store Location that receives Form submissions, this allows you to refine records to a single store.

Note: For any Lead types where Location is not a required field on the Form, these Leads are assigned to your primary Location.

Email: Will return only those records that were submitted by the email address you enter.
Submitted After: If a date is entered, any submissions entered prior to the date will be filtered out of the search results.
Submitted Before: If a date is entered, any submissions entered after the date will be filtered out of the search results.
Submission: Select one or both from Complete and Partial Lead submissions. A Partial submission is logged when a consumer opens but doesn't completely fill out and submit a Form.
Opt In: If Show Opt In Only is selected, only the records submitted by consumers who chose to Receive Offers will display.
Spam: Your Forms are configured to block or disregard spam email submissions. This checkbox selection allows you to remove this configuration and see those spam submissions.
Search Leads: Search Leads matching refinement selections made in steps 1 through 11. Results will show at bottom of page.
Download CSV: Generates a CSV file of Lead submissions. Leads included in the file are based on the refinement selections made in steps 1 through 11.
View Leads from the Leads Page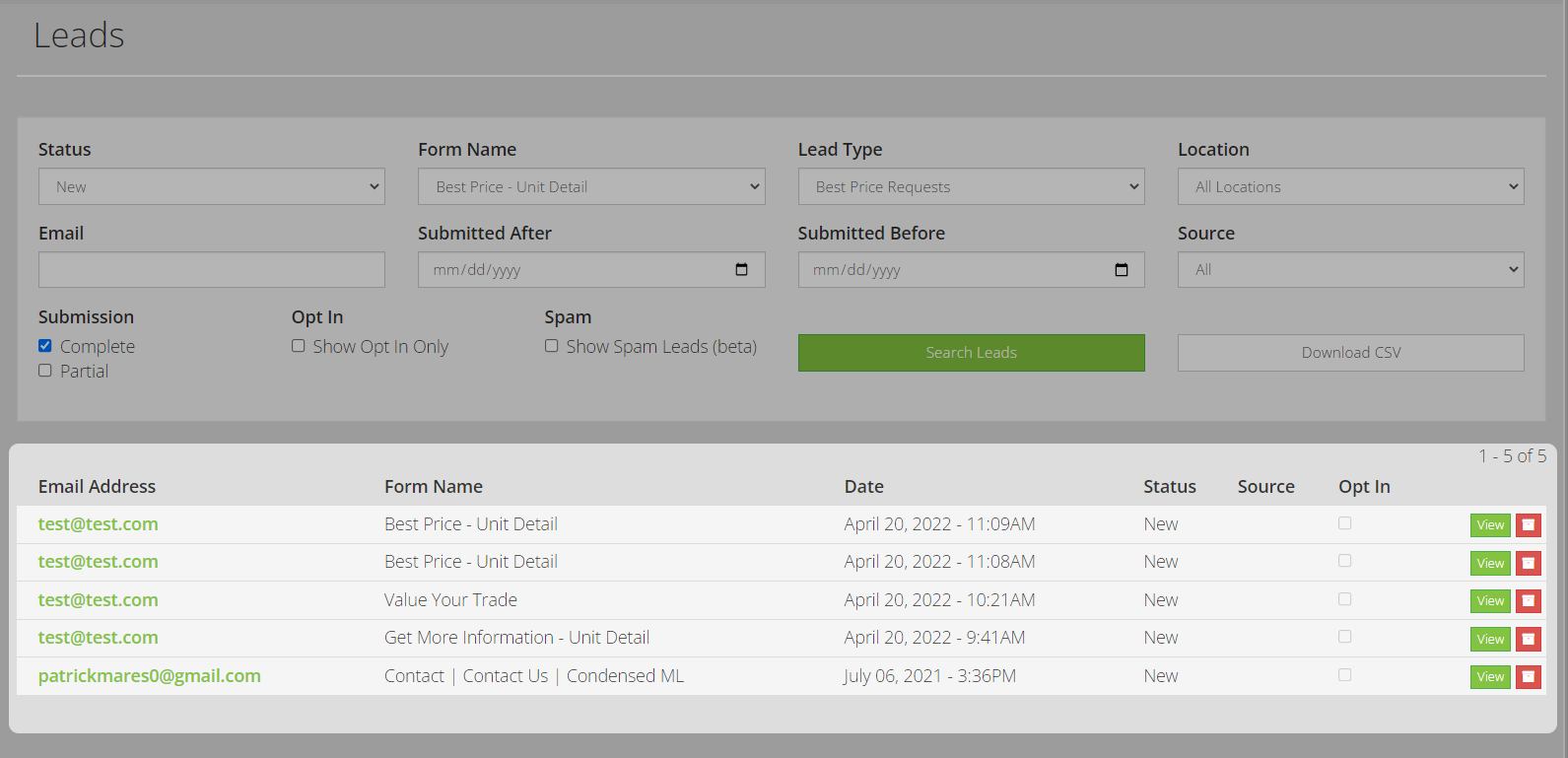 Fields visible from the Leads page include: Email Address, Form Name, Date, Status, Source, and Opt In. The red Archive button with the box icon can be used to soft-delete any Leads you no longer need to see. The View button will open the Lead Detail page with additional details and the ability to edit the Lead.
View Lead Details
Clicking the View button on Leads > Leads opens the Lead Detail page. The Lead Detail page allows you to block spam sources, respond, edit Leads, and view details not visible from the Lead search page including Secure Lead information.
For details on accessing Secure Leads see Accessing Secure Leads with Password Protection.
Respond to a Lead
Use the Lead Details card information at the top of the page or click the Send Reply Email button under Form Details reach out to the Lead source.
Responses sent from this page will not show as read within email or within a third party tool. We recommend tracking and responding to all Leads within one location.

Teams that prefer paper copy can also use the Print Lead button under Form Details.
Edit Leads and Block Spam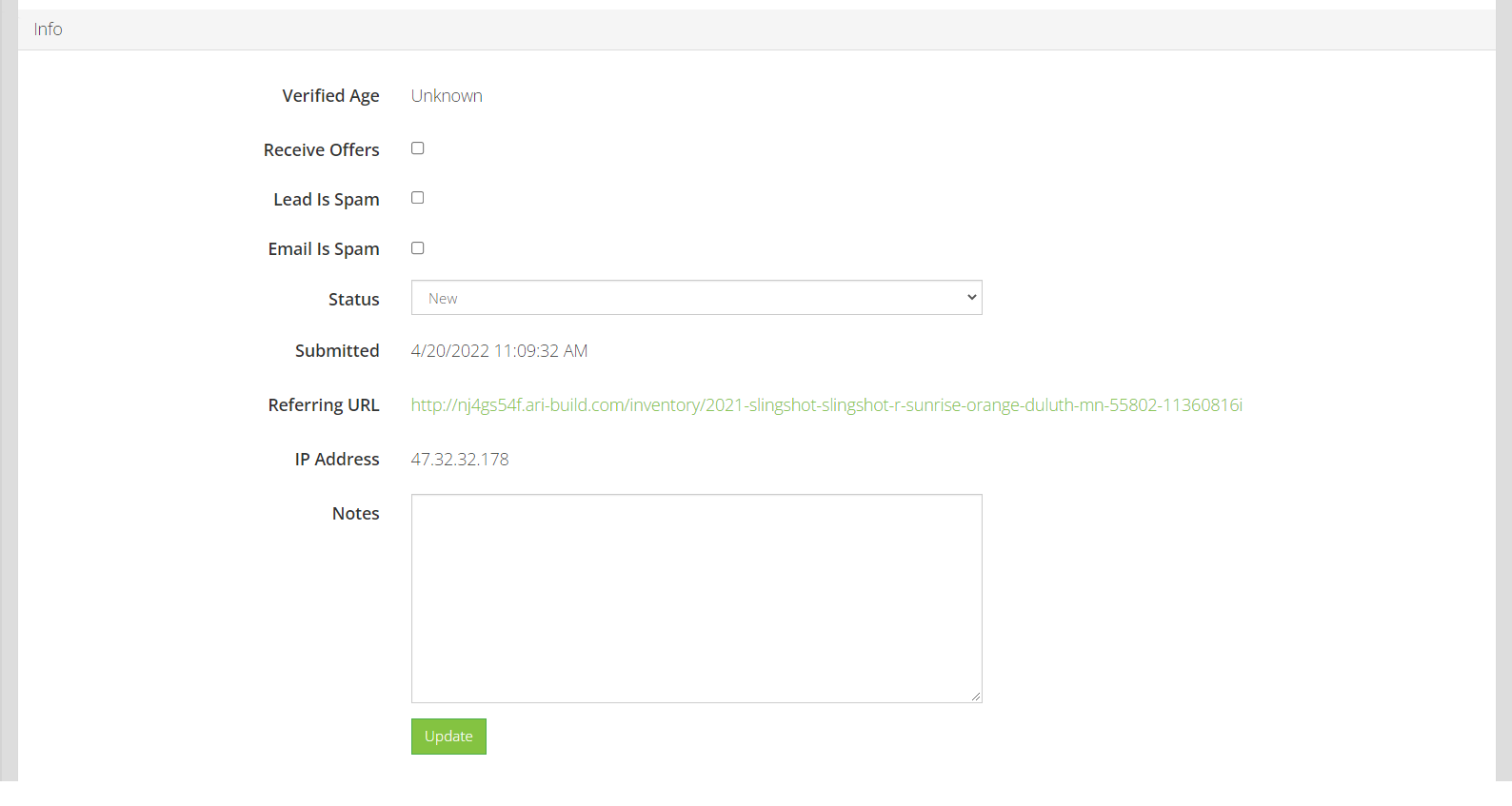 Use the Info section at the bottom of Lead Details to update the lead.
Receive Offers: Toggle whether associated customer email receives offers.
Lead is Spam: Marks Lead as spam.
Email is Spam: Marks Lead as spam and blocks further Leads from Lead email as spam.
Status: Set Lead status.
Notes: Add notes to Lead.
Click Save after making any edits.
View Details
The Lead Details card at the top of the Lead contains contact information you need to reach the Lead including: name, phone, email, and submission website.

Form Details: the middle Form Details section contains information submitted with the Lead and basic actions.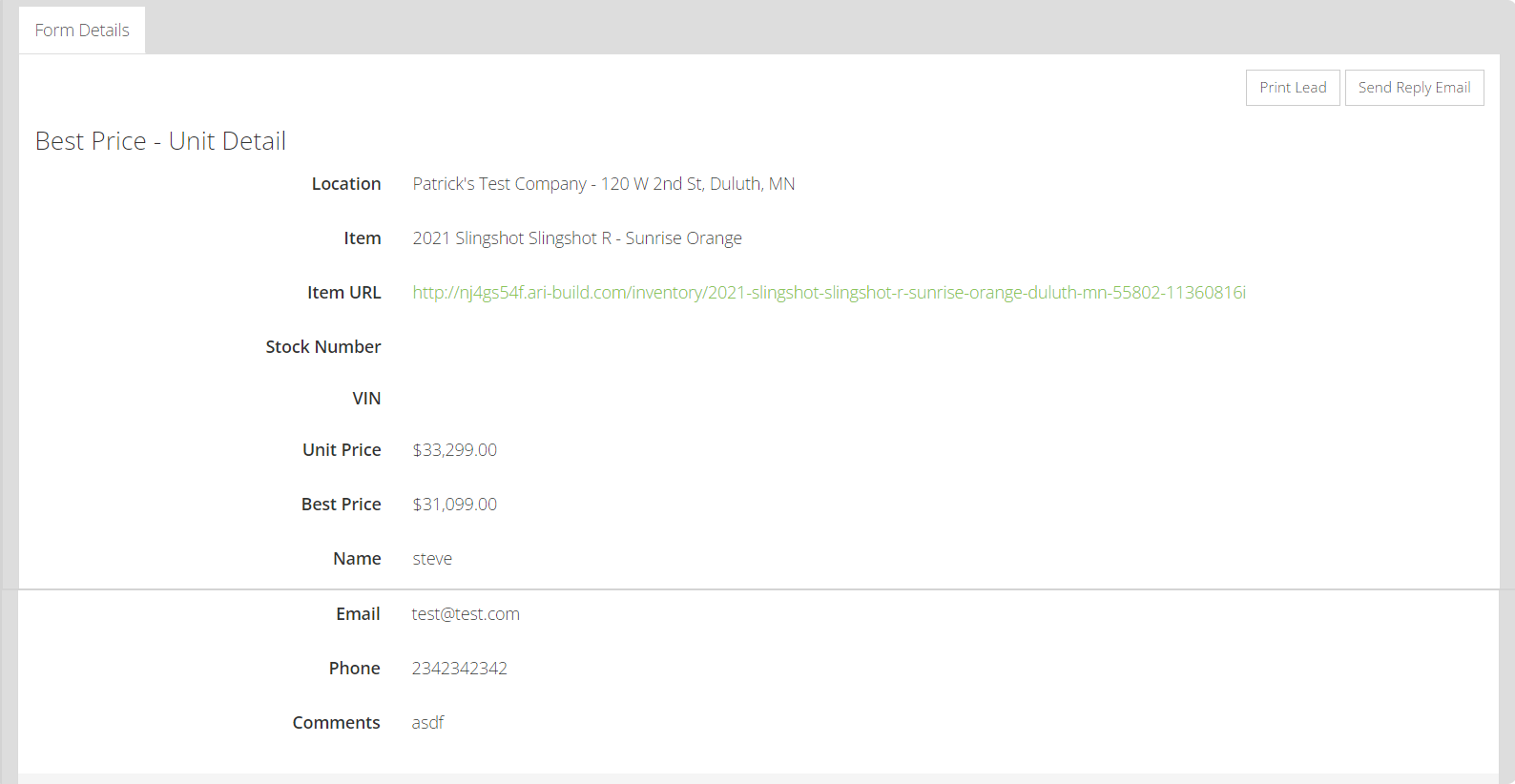 The Info section at the bottom of the page contains information your team can edit: Spam, email marketing Opt-In, Notes and Status.
Tell us how to make it better.
Thanks for the feedback!