OEM Price Uploads for Ecommerce and Legacy Ecommerce
OEM Price Uploads for Ecommerce and Legacy Ecommerce
Updated by Patrick Mares
If you sell OEM parts using our Ecommerce or Legacy Ecommerce systems, you can upload and apply custom prices by following the instructions below. 
OEM Price Uploads Text Walkthrough
The below process is more secure against typos and errors.
Download a PSPRICE upload file from the CMS
Log into the CMS and go to Setup Tools > Integrations

From the drop down menu for Type, select Microfiche.
From the drop down menu for System, select Parts Lookup.
If your account has more than one website, select the website for which you are uploading the price file.

Select OEM Parts Lookup Editor.
Select Upload Price File.

Select Download File Template to download the price.psprice template file.
Copy Price import info you need to a new file
Open the price file you received from the OEM with Microsoft Excel. This price file should be in .CSV or .XLS format

Create a new file in Excel and transfer what you need. More info on each column is below in PSPRICE OEM Price File fields.

Enter the OEM Parts Catalog name in Column A of each row.
Enter the Part Number or SKU in Column B.
Enter your dealer cost in Column C.
Enter Customer Price in Column D.
Enter False to show Price as usual, or True to display Call Us in place of Price in Column E.

Update the file so the first row contains the following headers: Brand Name, Part Number, Cost, Price, Call Us. There should be no spaces, commas or other characters before or after the header names.
Move the columns to a PSPrice file
First, format the data so it copies correctly.

Paste the following Excel formula into the first cell in Column F =CONCAT(A1,",",B1,",",C1,",",D1,",",E1)

Now copy from cell F1 and past the formula after every row. Excel will update the formula to pull from the current row.

Row F is now ready to copy to your PSPRICE file.

If you see any partial, incomplete rows at the bottom of the file, remove them to avoid errors during the import. The last row should be a complete row.

Open the downloaded price.psprice file and paste the contents of Column F from your new Excel document in place of the headers. You should not see any change in the header row.

If your computer does not know how to open .psprice files you may need to choose to open the file with Notepad on Windows computers or TextEdit on Apple computers.

Save price.psprice.
Upload your PSPRICE file
In the CMS, use the Select File button and choose your edited .psprice file.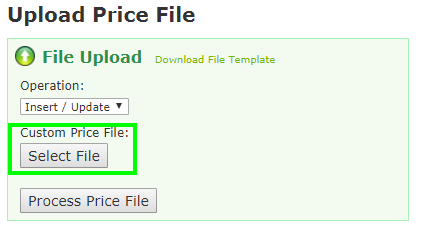 Click Process Price File.

If the upload is unsuccessful, the status will read as Unsuccessful Download. If this happens, go to the appropriate row under Upload History and find the link labeled Download Error Log to download an error log.  You can also re-open your price file and manually check for any errors (like extra spaces in your headers or incorrect Call Us values).
PSPRICE OEM Price File fields
The OEM price file format changed on 6/7/2022. You will need to create a new .psprice file if you have been using an older price file as a template.
PSPRICE files are standard format CSV files with the .psprice file extension. If you are comfortable changing
All fields are required in each row:
Brand Name: Brand Name indicates which Catalog the price file import will attempt to update.

Rows that do not exactly match Part Number AND Brand Name to an Ecommerce item will not be imported.

Part Number: Manufacturer Part Number or SKU.
Cost: The cost from your manufacturer. If you do not wish to enter this value enter 0.

Cost will not affect prices customers see, as imported prices override calculated prices.

Dealer Price: The price you will charge for the item as a dealer.
Call Us: Enter FALSE to display prices normally. Enter True to replace price with "Call Us".
Troubleshooting
The OEM Price file upload process in the video fails: Please attempt the text walkthrough process. It was designed to be more resistant to typos and other simple errors.
Error Message: Please verify column header and delimiter are in proper format in file

Brand Name,Part Number,Cost,Price,Call Us confirm the first row of the file you uploaded matches these headers.
Confirm Cost and Price fields contains only numbers and decimal points.
Confirm all fields contain data.
Confirm Call Us field contains exactly: TRUE or FALSE.

Prices fail to update without an error. This typically indicates the file was formatted correctly, but the information in the file did not match the parts you intended to update OEM Part prices for.

Confirm Brand Name is the exact catalog name.
Confirm Part Number in .psprice file matches OEM part number visible on your website.
Tell us how to make it better.
Thanks for the feedback!