How to Use the Digital Marketing Report's Full Solution Dashboard
How to Use the Digital Marketing Report's Full Solution Dashboard
The Full Solution Dashboard on the Digital Marketing Report page is a tool provided to any clients enrolled in at least one of our digital marketing solutions. It is intended to show high-level digital marketing (DigMS) offering metrics. The Full Solution Dashboard offers insights into how digital marketing solutions are performing, equipping dealers with metrics to better understand their digital marketing strategy and areas for optimization.
To access the Full Solution Dashboard, log into your CMS and go to the Performance > Digital Marketing within the CMS.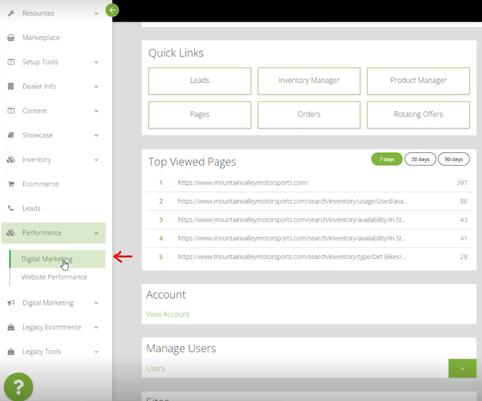 If you do not see a Digital Marketing category in your CMS Navigation Menu contact the CMS Administrator at your dealership to confirm you have the Dealer-Reports account permission enabled for your account. If you already have this account permission you may have to reach out to your Account Manager to confirm your dealership subscribes to Digital Marketing Services.

If you are not subscribed to all of our products, some sections of the dashboard will not be populated for you.
As you access the Full Solution Dashboard, there are multiple reports available for you to better understand the success behind your digital marketing efforts.
All Traffic
The first available report is a summary of all traffic and how it is attributed to different channels that bring traffic to your site. This provides insight into the traffic to your website with total visits, visits from marketing, and a breakdown of visits by channel/medium.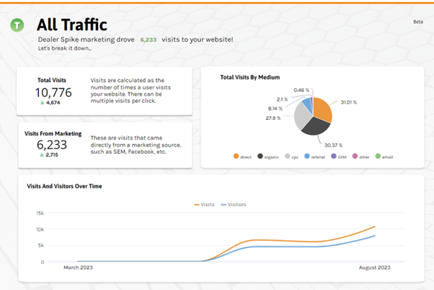 You will also see a tab at the top labeled Date Range which allows you to change the timeline for which you'd like to see data (i.e. you can filter to see year-over-year or month-over-month).

Leads
The next report illustrates leads that were driven to your site. There is a breakdown of total leads, the lead conversion rate, leads over time, leads by type, and leads by source.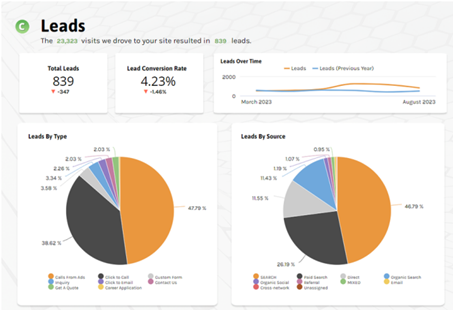 • Total leads: Total/overall number of potential customers (prospects) generated through digital marketing efforts
• Leads over time: The total number of leads generated within a specific period of time
• Leads by type: The categorization or segmentation of leads based on specific characteristics
• Leads by source: The categorization of generated leads based on the specific channels or originals through which they were acquired
Paid Digital Marketing Reporting
The next two reports outline paid digital marketing efforts, such as SEM and social advertising. Paid efforts consist of users that arrive at your site via ads on search engine sites (like Bing or Google) or social media sites (like Facebook or Instagram). If you're running any of those digital marketing services with us, you'll see metrics accordingly. For each of those categories, you'll see a breakdown of results by campaign in addition to impressions, clicks, click-through-rate, conversions, and conversion rate.
Search Engine Marketing (SEM)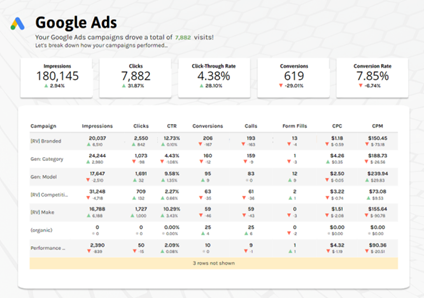 Social Advertising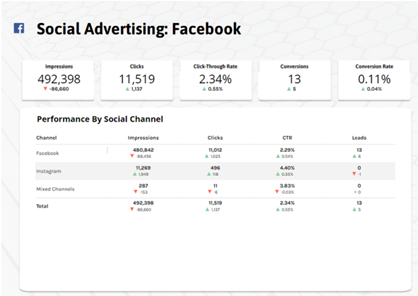 Impressions: The number of times a page or an ad from your site is visible in a search engine result
Clicks: The number of users who visited your website after clicking an ad, referral link, search engine result, etc.
Click-Through-Rate: The rate of total clicks to impressions your campaign gets
Conversions: The desired action(s) taken by a prospect or customer in response to a marketing effort (i.e. online purchase, form submission, event registration, phone call, etc.)
Conversion Rate: The number of users who became a lead divided by the total number of users who interacted with your ads
Search Engine Optimization (SEO)
Search engine optimization (SEO) metrics improving organic digital marketing efforts are found beneath paid marketing efforts.
Organic traffic consists of users that arrive at your site via non-ad links in organic search results. In this report, you'll find metrics related to organic impressions, organic visits, and organic leads, as well as a breakdown of your top-performing landing pages and the top keywords being clicked within organic searches.
Organic impressions: The number of times a piece of content, such as a blog article or website page, is displayed to users without any paid promotion
Organic visits: The number of visits to a website or online content that occur naturally or organically, without the influence of paid advertising
Organic leads: Potential customers (prospects) or contacts who express interest through natural and non-paid channels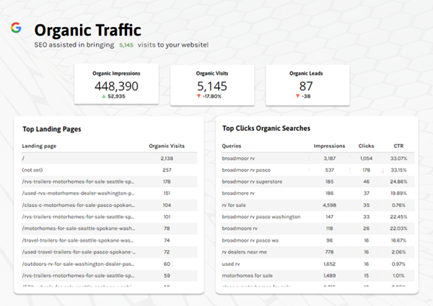 Glossary
The last resource within the Full Solution Dashboard is the glossary, which outlines a list of key terms and their definitions to help you interpret reporting.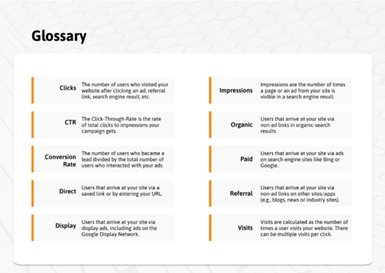 Full Solution Dashboard for dealers without DigMS services
Please note, if you are not subscribed to any of our DigMS services, here are examples of what you'll see within the Full Solution Dashboard: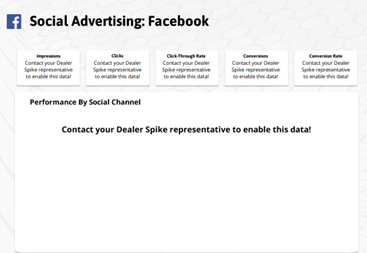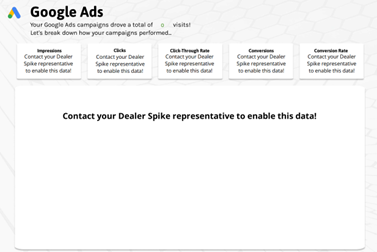 The Full Solution Dashboard offers insights into the performance of digital marketing efforts to equip you with the knowledge needed to better understand and optimize those efforts across paid and organic channels.
For more information or any questions regarding the Full Solution Dashboard, please feel free to reach out to your Web Representative.
Tell us how to make it better.
Thanks for the feedback!