Update Fitment by User Interface
Update Fitment by User Interface
Updated by Patrick Mares
This article documents Ecommerce management systems. If you need instructions on accessing Ecommerce,
click here.
To begin with, browse to your Private Catalog using the main navigation bar in the E-Commerce Platform.

Step 1
Click into an MPN of one of your products and scroll to the bottom of the product
Step 2
Enter the Year, Make, and Model for each possible fitment combination. Once you enter values in the fields, the Add button will come alive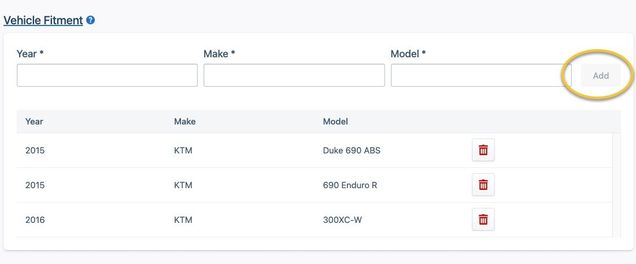 Hot Tip: Be VERY precise and do it right the first time. You must be careful to not create multiple instances of a singular Make or Model. Example: If you create a fitment and use Yamaha as the Make, and then create it again, but this time you accidentally misspell it as Ymaha, you have now created two versions of Yamaha. Same especially goes for Models.

Take Harley for instance. For FLSTF Fat Boy; are you going to call it FLSTF Fatboy? Obviously only one is correct, but if you aren't careful you are going to end up with two different versions on your Year, Make, Model search.
Tell us how to make it better.
Thanks for the feedback!