Legacy Ecommerce Delivery Methods and Rates
Legacy Ecommerce Delivery Methods and Rates
Updated by Patrick Mares
This article documents
Legacy Ecommerce
management systems. If you are unsure whether you have
Ecommerce
or
Legacy Ecommerce
enabled please see
Accessing Ecommerce.
Important Shipping Information—Please Read Carefully

Strive to set shipping rates that reflect actual costs. For example, if you recently shipped a package via UPS Ground, look at what the cost was based on the value of the item. You can refer to several similar shipping situations and average out the cost to know what amounts to use in your online store.

Cover all your bases. If you only list shipping costs for order totals of up to $200, orders totaling more than $200 will not be presented with this shipping method during checkout. If you want to offer free shipping for orders over $200, you will need to use the "Orders Over Set Limits" option and set the rate to $0.00.
Step-by-Step Guide
Add/Remove Delivery Methods:
To start, click Legacy Ecommerce > Delivery Methods & Rates.
To add a delivery method, check the box next to the delivery method you want to add. To remove a delivery method, uncheck the box.

Changes to the Delivery Method checkboxes are automatically saved.
Proceed to the next section to add/remove delivery services for active delivery methods.
Add/Remove Delivery Services:
On the Delivery Methods & Rates screen, click the Edit Shipping Rates button.

From the Delivery Methods dropdown menu, select the method you would like to adjust.

Select the services you want to make available using the check boxes in the Active column of the table.

Changes you make will be saved automatically.
Proceed to the next section to edit shipping rates for active delivery services.
Edit Shipping Rates:
To set the rate structure for a service that you have active, click the Edit button for that service.

Enter a limit and rate, then click the Add Rate button.
Continue to enter limits and rates for this shipping method until you have covered all possible total order amounts. 
If you want all orders over a set limit to be charged a certain amount, select the Orders Over Set Limits option from the dropdown menu and enter your rate.
In the example depicted below, FedEx Ground is configured such that:
Orders up to $50 ship for $11.95
Orders from $50.01 to $150 ship for $22.95
Orders from $150.01 to $300 ship for $34.95
Orders from $300.01 and up ship for $52.95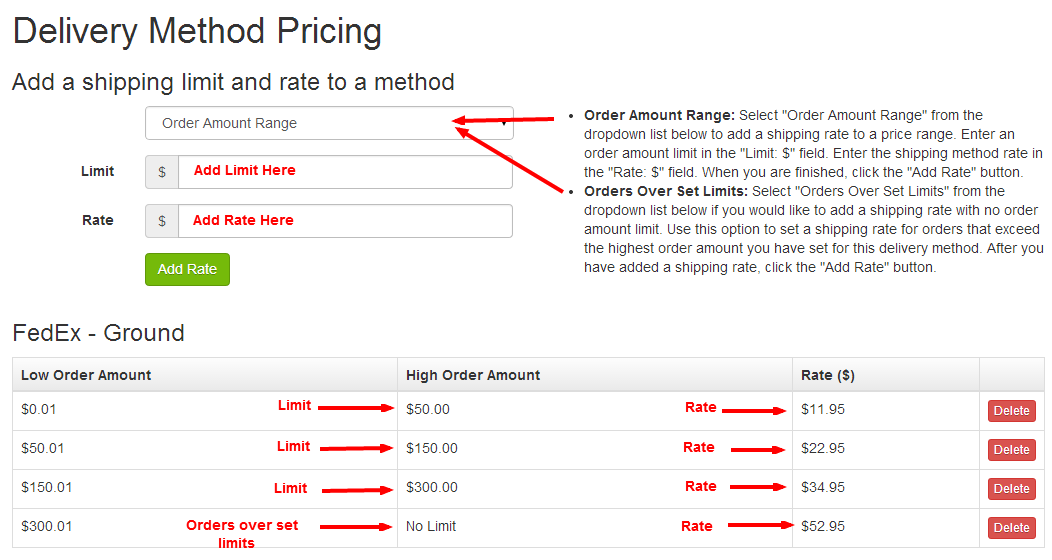 Tell us how to make it better.
Thanks for the feedback!