How to Configure Paypal for Checkout
How to Configure Paypal for Checkout
PayPal Fast Checkout (REST API)
You may use new or existing PayPal rest API credentials to integrate PayPal payments for Ecommerce. Other payment gateway options include Stripe and Authorize.net.
Create New Rest API Credentials
Log into https://developer.paypal.com/ with your paypal credentials and follow the Paypal guide to creating REST API credentials here.

Make sure to create a set of live credentials. Sandbox credentials can be used for testing PayPal, but will not allow you to run real transactions.
Use Existing REST API Credentials
Go to to https://developer.paypal.com/.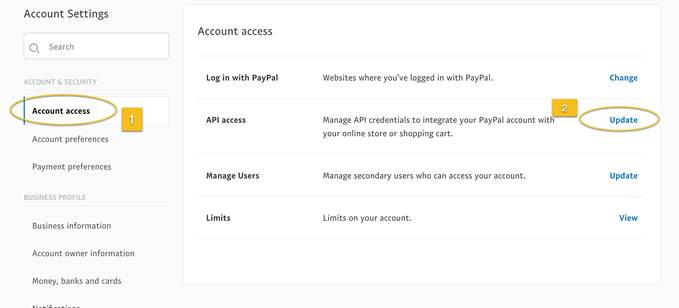 Click My Apps & Credentials. 
Click Manage REST API Apps and Credentials.

Set the toggle to Live to view Live REST API credentials.

Click the App name you intend to use. Copy the "Client ID" and "Secret Key".
Activate Ecommerce PayPal Integration
This article documents Ecommerce management systems. If you need instructions on accessing Ecommerce,
click here.
Go to Settings > Webstore within Ecommerce, and scroll down to PayPal Fast Checkout (Rest API Integration).

Make sure Test Mode is not checked.
Copy the REST API values from PayPal into the provided fields:

Client ID
Secret Key

Click Save. Your PayPal integration is now active.
Troubleshooting
If transactions fail to process:
Confirm you have client ID and Secret in the correct fields.
Confirm your keys come from a live environment.
Check PayPal fields for spaces before and after the data.
Check information fields match Paypal information exactly, especially if typed and not pasted.
Confirm your Paypal account is fully activated and in good standing. Missed payments may stop service.
Confirm test mode is not checked.
Tell us how to make it better.
Thanks for the feedback!