Creating Inventory Packages
Creating Inventory Packages
Updated by Patrick Mares
This article documents 
Inventory
management systems
.
Below are two screen shots of how a Tractor Packages Product group should look. If the images are too small or out of focus please just use the hyperlink above the image to go directly to the website. Website Perspective: https://www.haneyequipment.com/

This is an example of what a listing for an individual LS Tractor Package should look like. Take note of how the Dealer Notes and Insights section if formatted.  If the images are too small or out of focus please just use the hyperlink above the image to go directly to the websitehttps://www.haneyequipment.com/inventory/2018-ls-tractor-xj2025-244hp-package-deal-athens-al-35613-2220462i

An example of these changes resides below. From the dashboard of the editor click the following: Products, Inventory Manager, Add Unit Inventory.
Industry = Ag and Lawn
Manufacturer = LS Tractor
Equipment Type = Agricultural Tractors
Style = Compact
Year = 2015
Model = XJ2025-24 4HP Package Deal
Link to = XJ2025-24 4HP

The link to is set to XJ2025-24 4HP to bring in the base specifications of the tractor of which the the attachments will be added. Package Deal is added to Model to dictate there is more then just the base tractor being included for the total price.

Stock Number = Optional
Vin = Optional
Location = Business address
Description = This field is used in this example to spell out to the customer. 1. Any damage to the base unit. 2. Any customization's to base unit. 3. All extra attachments that come with this Package Deal in addition to the base tractor. 

Title = Clean
Condition = Excellent
Color = Optional
Trim Color = Optional
New/Used = required for every industry besides OPE
Usage Unit = Hours, Miles, Kilometers or Custom
Usage Value = Amount of Hours, Miles, Kilometers or Custom 
Base Price = Web price or Call For Price
$ = Price plus extras and delivery / destination charge
Best Price = Optional
CMS Editor Perspective: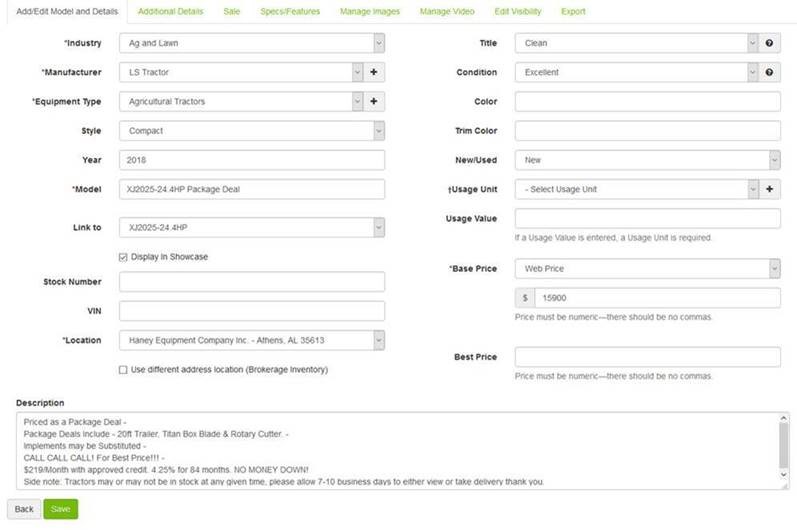 Click the Specs/Features tab.

Click the radio button to the left of Use Customized Specs/Features. 
Click Edit to the far right of Primary Product Description. 
Type following text at the top of the current stock product description: Priced as a Package Deal-Package Deals Include - 20ft Trailer, Titan Box Blade & Rotary Cutter.-Implements may be Substituted-CALL CALL CALL! For Best Price!!!-$238/Month with approved credit. 4.75% for 84 months. NO MONEY DOWN!Side note: Tractors may or may not be in stock at any given time, please allow 7-10 business days to either view or take delivery thank you.25HP small chassis 4WD compacts, suited for smaller, confined spaces.

Click Save Changes.

Click the Manage ImagesTab. Make sure to add images that properly display condition of unit and all attachments available for package.

Click the Edit Visibility tab. Under Showrooms to the right of Add New Type either Package Deals or LS Tractor Package Deals click the green "" symbol. Check the box to the left of your newly created showroom. On the far right side of your screen under Product Groups check the box to the left of LS Package Deals. Click Save then click your name in the upper right hand corner of the screen and click the top menu option Publish Changes.      
To create custom product groups:
Tell us how to make it better.
Thanks for the feedback!