Using the New Reputation Management Console
Using the New Reputation Management Console
Updated by Randall Theil
The Reputation Management program increases the visibility of your reviews by showing reviews from your Google and Facebook pages as well as your website into a single review feed and makes responding to customer reviews and engaging with customers easier and faster by giving you a single interface to manage reviews from multiple channels.
Some or all of these interfaces may be unavailable to you depending on the packages you have selected. If you're interested in learning more,
reach out to your account manager
.
---
Reputation Management has four parts:
Website Review Tool
The Review Tool displays your Google and Facebook reviews on a single page. It encourages customers to leave online reviews with Write a Review buttons that link to your Google and Facebook leave a review pages.
Displaying reviews on your site improves search performance and increases the visibility of positive reviews for prospective customers.
Review Management Console
Reputation Management makes online engagement with customers easier and faster by giving you a single interface to manage reviews from multiple channels. The Console also displays analytics about your reviews and provides downloadable reports.
Automatic Review Requests
To maximize the tool's value and grow your review count, integrate a supported DMS/BMS with our Reputation Management tool to automatically request reviews from customers after they do business with you. If you don't have a supported system, you can upload lists of customers to automatically send these requests.
Managed Review Responses
Optionally, have professionals respond to your online reviews on your behalf. Reach out to your Web Representative for more information on Managed Review Responses.
Logging in

Click Reputation Management from the CMS or go straight to https://ari.customerconnections.io in your web browser.

Enter the email address and password you were given when your account was set up. If you don't know your credentials and your team doesn't have any alternative log-ins set up, you'll have to reach out to your Web Representative
The CMS is intended to offer automatic log in in the future to allow for a single log in.
Dashboard and Insights
The first thing you'll see when you log into the New Reputation Management console is the Dashboard page.
On this screen, you'll see metrics about reviews you've received from different channels as well as the requests for reviews that you've sent out to customers.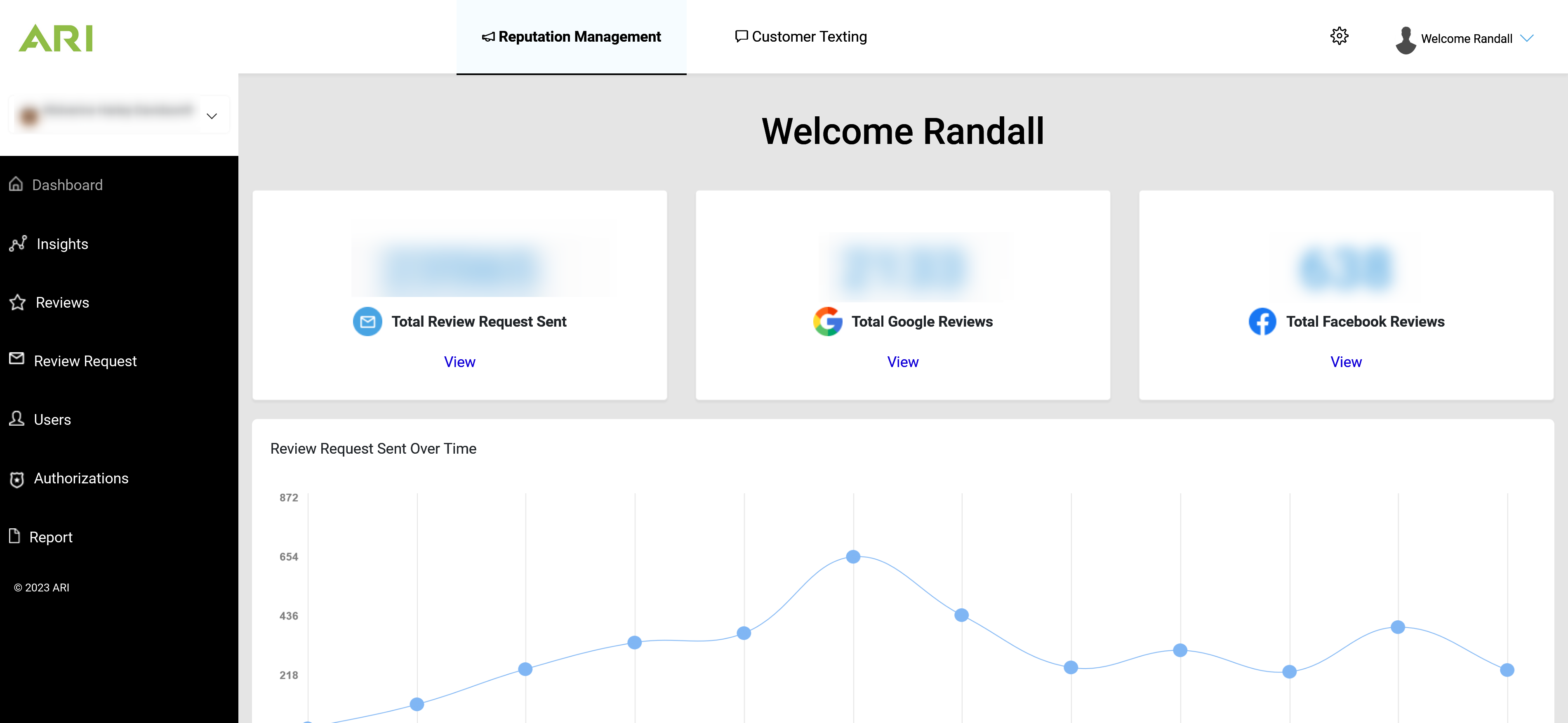 To get more detailed analytics for your reviews, you can click on the Insights tab. Here you'll see a breakdown of reviews and review sources as well as how well you've been doing at responding to reviews.
Making an effort to reply to all of your customer reviews will improve your customer engagement, but Google also offers SEO benefits for interacting with your reviews.
This page also offers a quick overview of customer opinions of your Dealership.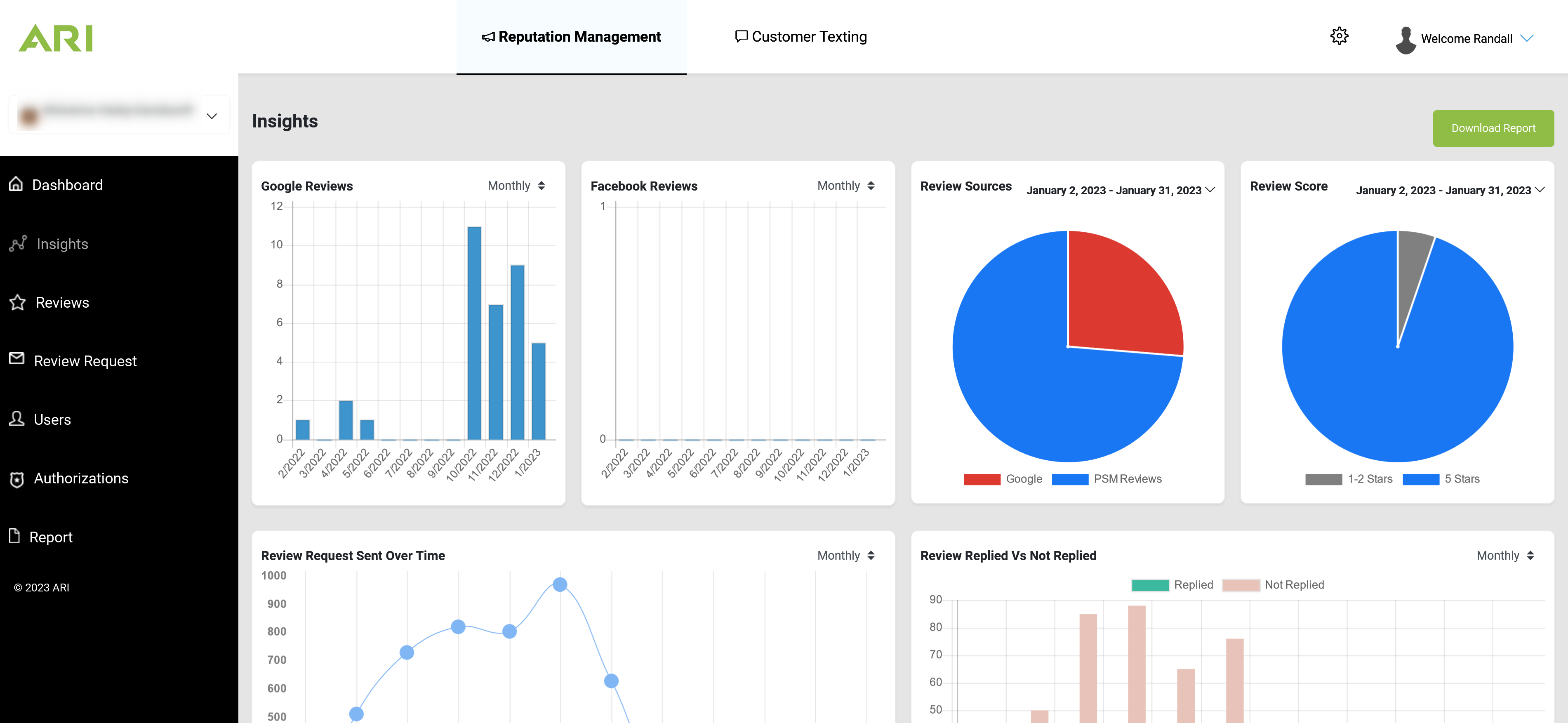 To download data and access info from previous months, you can click on the Reports tab to get to a page where you can see and download reports for previous months. You can click the year dropdown to select previous years if available.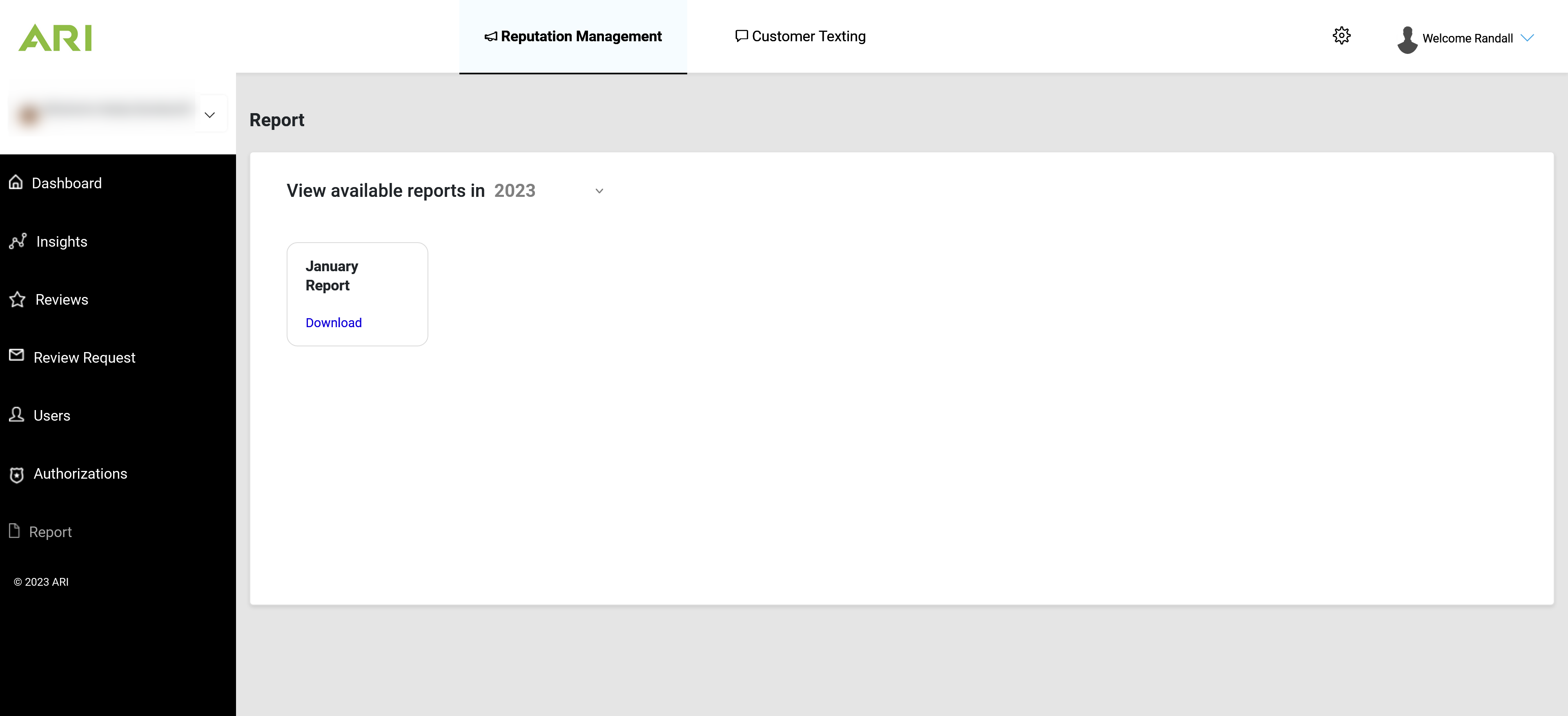 Reading and Responding to Reviews
If you click on the Reviews tab, you'll see a list of reviews from all of your different review channels (Facebook, Google, and your website). You can use the dropdown menus at the top of the page to filter and sort your reviews.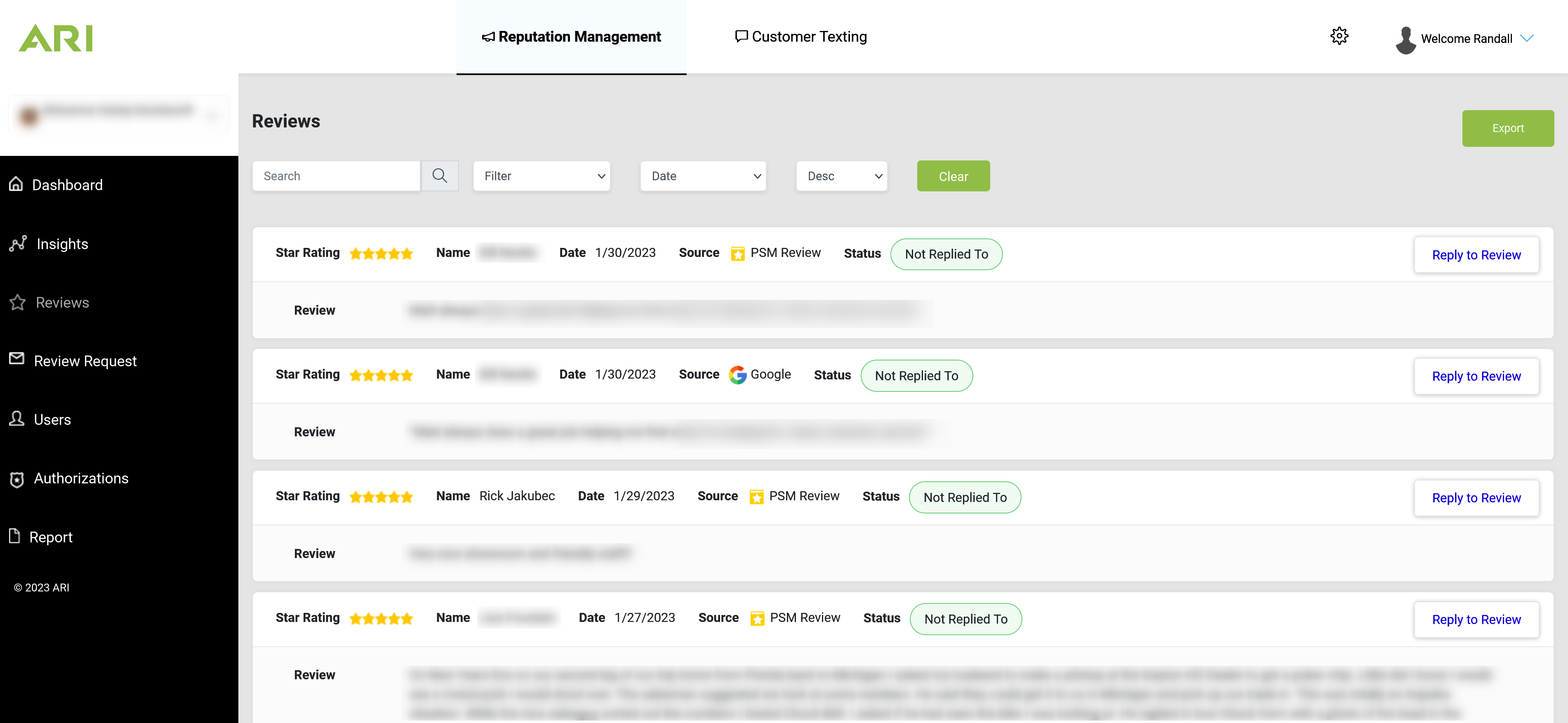 The Status field on each review will tell you whether you've responded to a review yet or not. To reply directly to a customer's review, click the Reply to Review button next to the review.
Review Requests
On the Review Request page you can send Review Requests to customers whose contact info you've collected. You'll see past requests at the bottom of the page. At the top you can enter a customer's name, email address or phone number into the search bar to pull up their info, if it has already been entered.
You can add customers either by clicking the + New Customers button to add them manually or by clicking the Upload Contact List button and uploading a CSV file with your customers' names and contact info.
After uploading, you'll be prompted to select which fields contain the relevant info so they can be imported.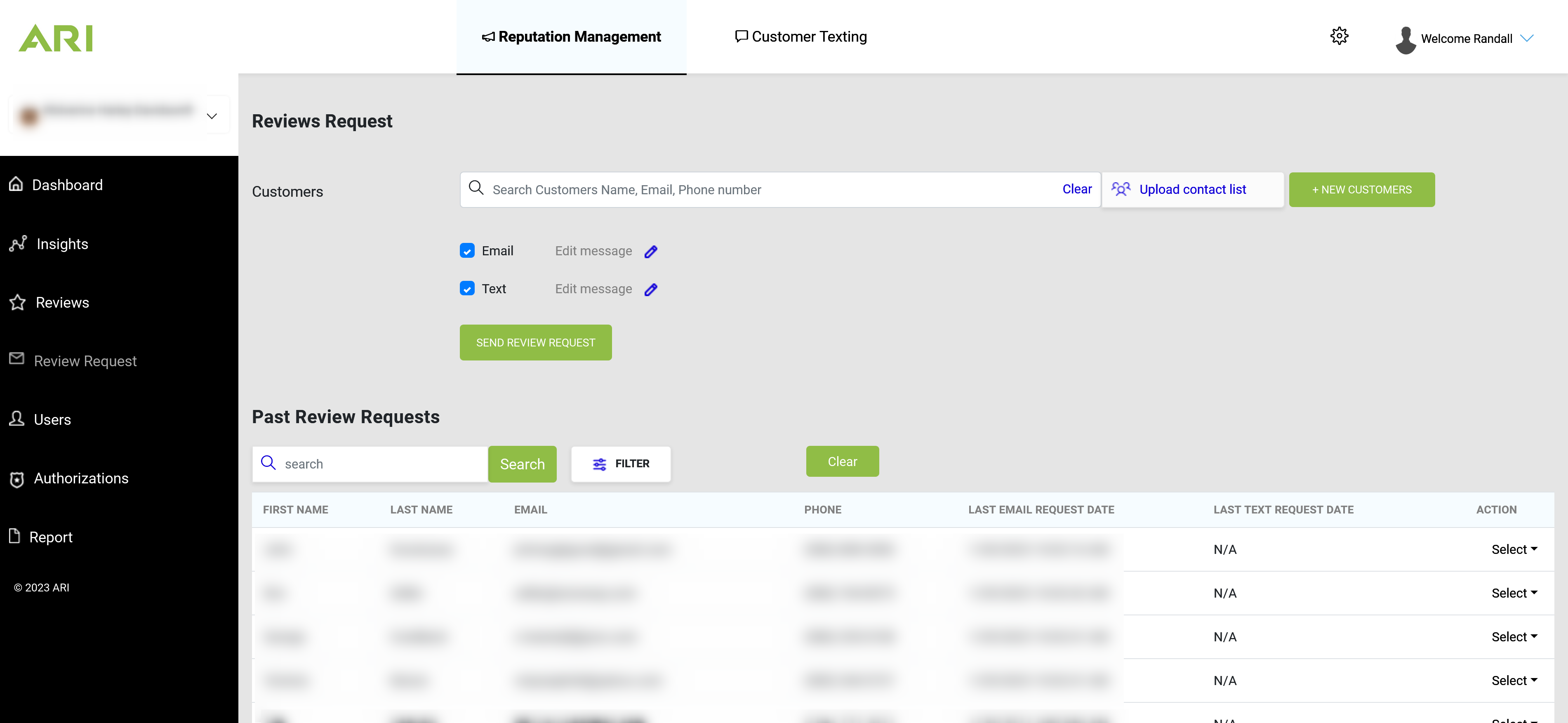 Managing User Accounts
In the Users screen, create additional logins for your employees to sign into the Reputation Management Console so they can see and respond to reviews.
Give users the Dealer User role if you want them to be able to view and respond to reviews. Give them the Dealer Admin role if you want them to be able to manage user accounts.
You can click the pencil icon to the right of any user account to edit their info and reset their password.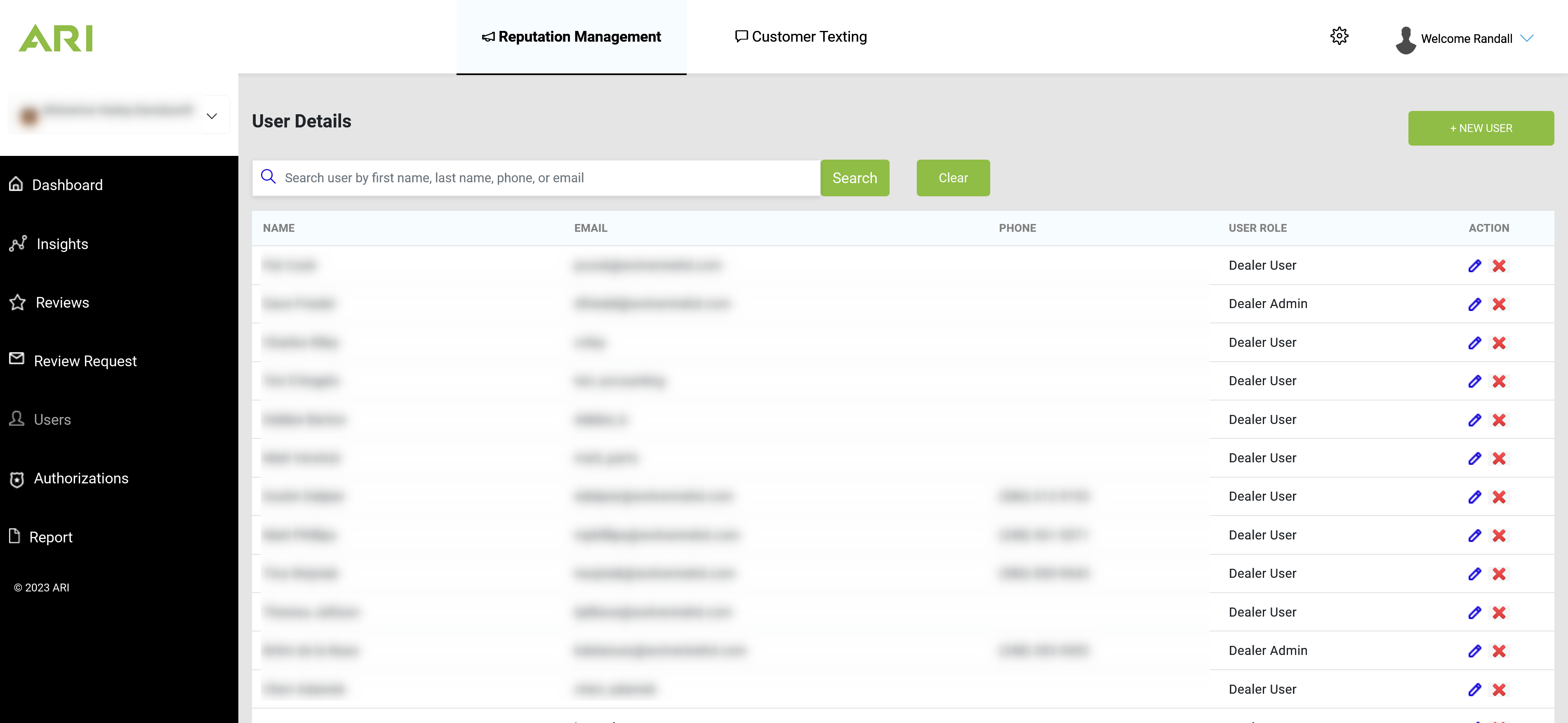 Connecting Your Social Media Channels
The Authorizations tab is where you can connect to your social media channels. You'll see URLs here for your Facebook and Google Reviews page as well as information for the DMS that's been connected, if any.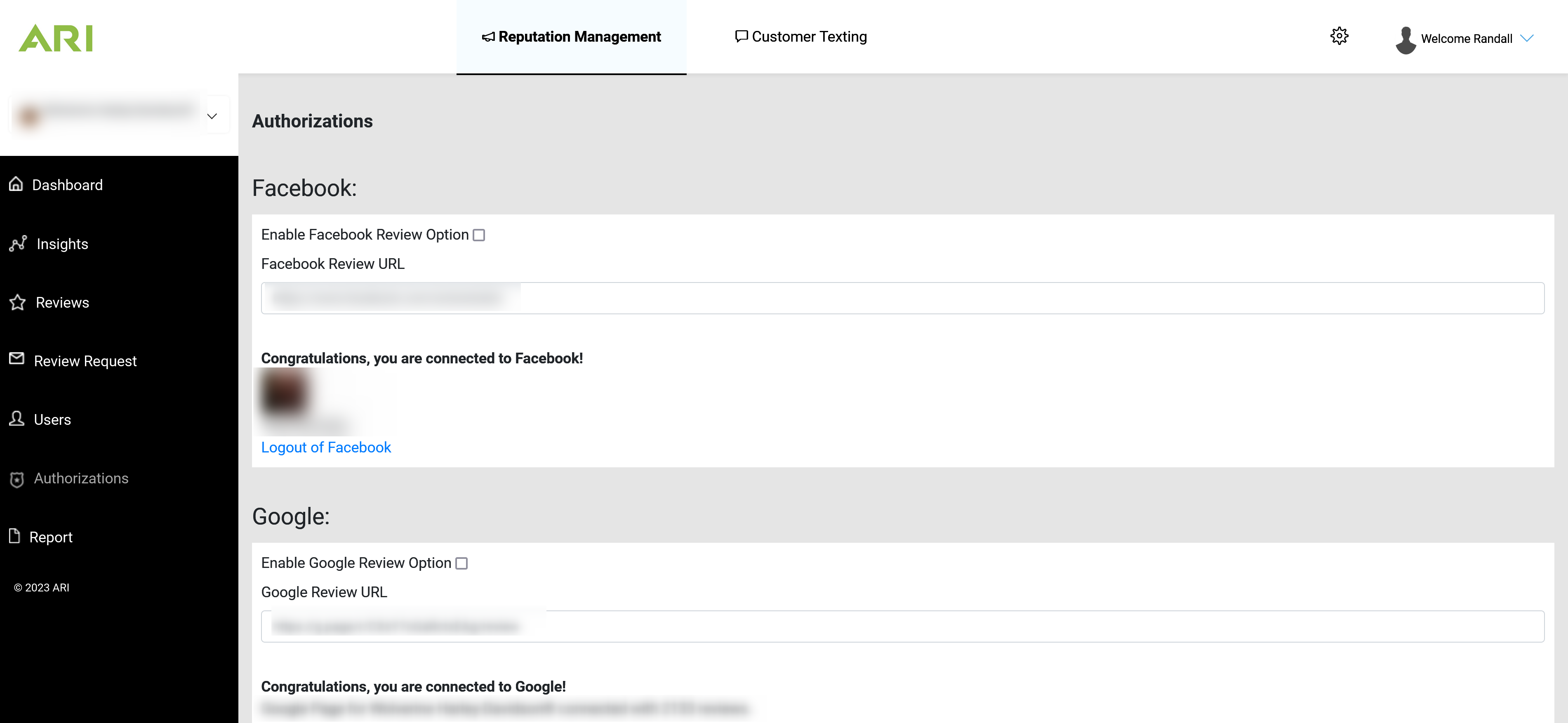 Facebook and Google URLs follow the following formats:
However, you shouldn't need to alter this page after it's been initially set up for you.
If you have questions or requests about this product, please reach out to your account manager.
Tell us how to make it better.
Thanks for the feedback!