Please use the information below to reach out to our teams for any questions not covered in self help.
Tech Support
Phone: 800-558-9044  Email: cs@arinet.com Hours:7am-5pm CT
Tech Support offers the largest staff of our customer facing teams allowing quick action: troubleshooting issues, providing basic information, and routing calls to teams with the information you need.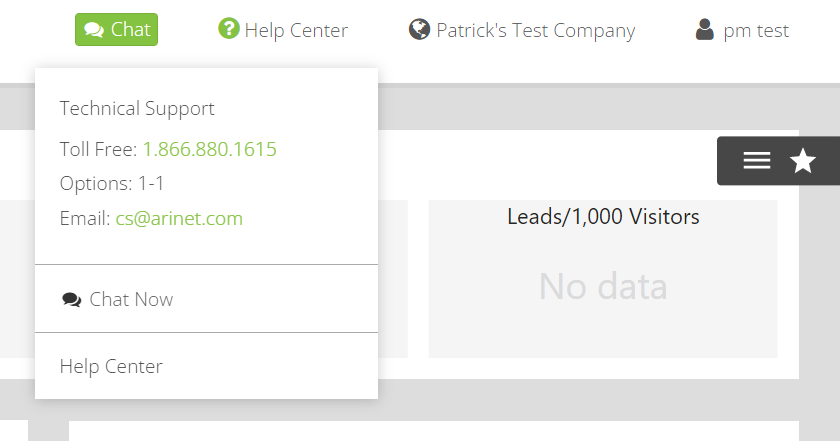 You can chat live with tech support with the Chat button in the top bar of the CMS, or with the Chat Now link available in the help center menu next to the Chat button.
Web Representative
Hours: Varies based on location
Your Web Representative (Web Rep) should be familiar with your account and may be able to assist with larger site changes than tech support can provide. If you are not familiar with your dealership's Web Representative or believe your Web Representative has changed, Tech Support can confirm Web Representative information for your account.
Sites are not assigned a Web Representative before they are live. Before site launch, your Implementation Specialist acts in place of a Web Representative and handles most items in place of Tech Support.
Your Web Representative should be familiar with your account and may be able to assist with larger site changes than tech support can provide. Web Representatives are the best contact for:
General Integrations
Pending emergency or red button issues
Integrations with business system
Google tags and tracking info
Escalating an existing request
New Models Catalog changes
Updates
Phone: N/A Email: updates@arinet.com Lead Time: 1 Day Minimum

The Request Update button can be found at the bottom of your dashboard in the CMS.
Click on dashboard, scroll down, and look on the right for the contact information box in the image above. Sending an email to updates@arinet.com is also an option and may be useful for more detailed requests. Please include any information that might be required to complete your request to prevent delays.
Our Updates Team offers fully custom website configuration as a service. Please reach out to Updates for items including:
New graphics
Rebuilding site pages
Editing or adding new forms.
Video Background Updates
Domains
Phone: N/A Email: domain@arinet.com
Please contact your web representative to request a domain transfer to or from ARI.
Our Tech Support team can quickly troubleshoot basic Domains and DNS issues and confirm management of any domains transferred by standard process.
Our Domains team can confirm management for domains not transferred by the standard process and assist with:
Registration issues
Troubleshooting domain transfer or DNS issues
Update requests for TXT, MX, A, or DNS records.
Billing
Billing  Phone: (877) 373-1173  Email: billing@leadventure.com Hours: 10am-7pm CT
Our Billing team can be reached for licensing payments and account billing status questions.
Self Help
Please use our built in tools to contact our Self Help team for updates or revisions to content available on help.ari-cms.com and within our self help widget in ari-cms.com.
Quick Contacts:
| | | | |
| --- | --- | --- | --- |
| Tech Support  | 800-558-9044  |  cs@arinet.com | 7am-5pm CT |
| Billing   | (877) 373-1173 or (931) 303-0549  | billing@leadventure.com  | 10am-7pm CT |
| Web Representative | | | Varies |
| Self Help | N/A | | |
| Updates | N/A | updates@arinet.com | 1 day lead time |
| ARI Domains | N/A | domain@arinet.com | |
Tell us how to make it better.
Thanks for the feedback!