Existing Inventory Vehicle and Equipment Display Page
Existing Inventory Vehicle and Equipment Display Page
Updated by Patrick Mares
The Inventory Vehicle and Equipment Display Page (VDP) is the most important page for your customers as they look at your inventory! This page offer customers Inventory Item information and provides Call to Action forms to convert shoppers to buyers.
Anatomy of the VDP Page
Media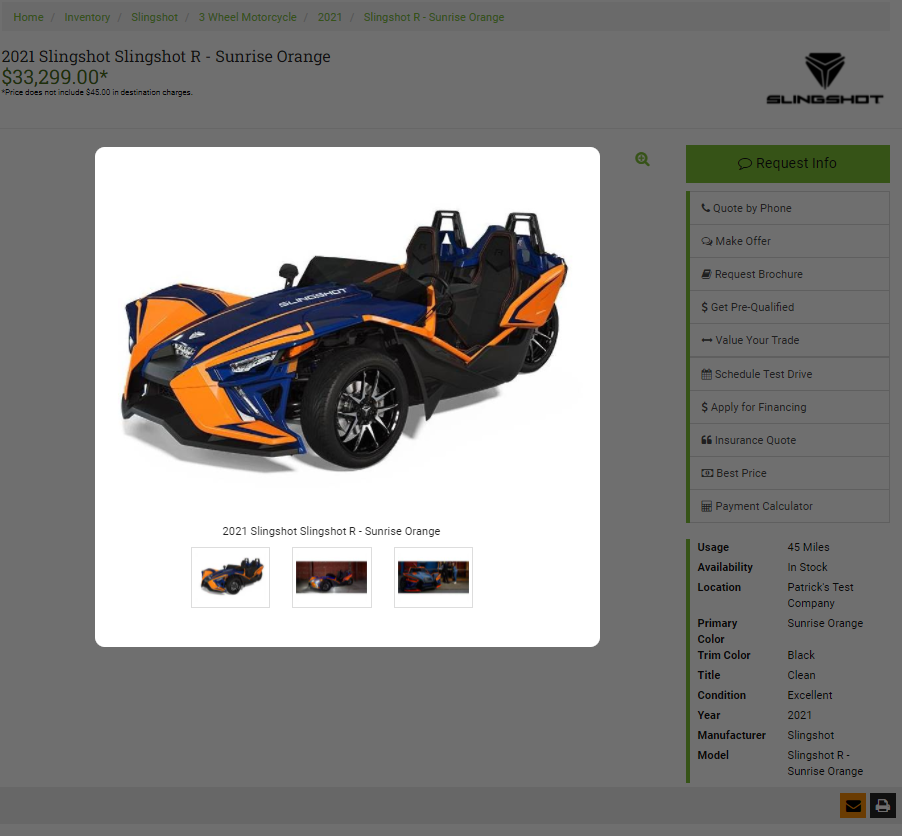 Making and sharing high quality videos and images is one of the biggest things you can do to improve sales. The Media section on the VDP page showcases these images, videos, and 360 spins to let customers see what you are selling.
Images and one video can be associated to an Inventory Item as described in Add and Remove Inventory Units.

Make sure to confirm uploaded images fit nicely in the display box. We recommend roughly 1000x533 pixel Images. Images can be cropped with any image editing software to proper dimensions. 90 DPI or higher is preferable.

Inventory you choose to associate with Make/Model lookup results may also provide optional default images. The amount of stock images provided vary greatly unit to unit.

360° Spins are fully interactive Inventory walk-arounds available through our Dealerpic 360 integration. For more on DealerPic 360 see our introductory Dealer-pic 360 webinar here.
Price and Details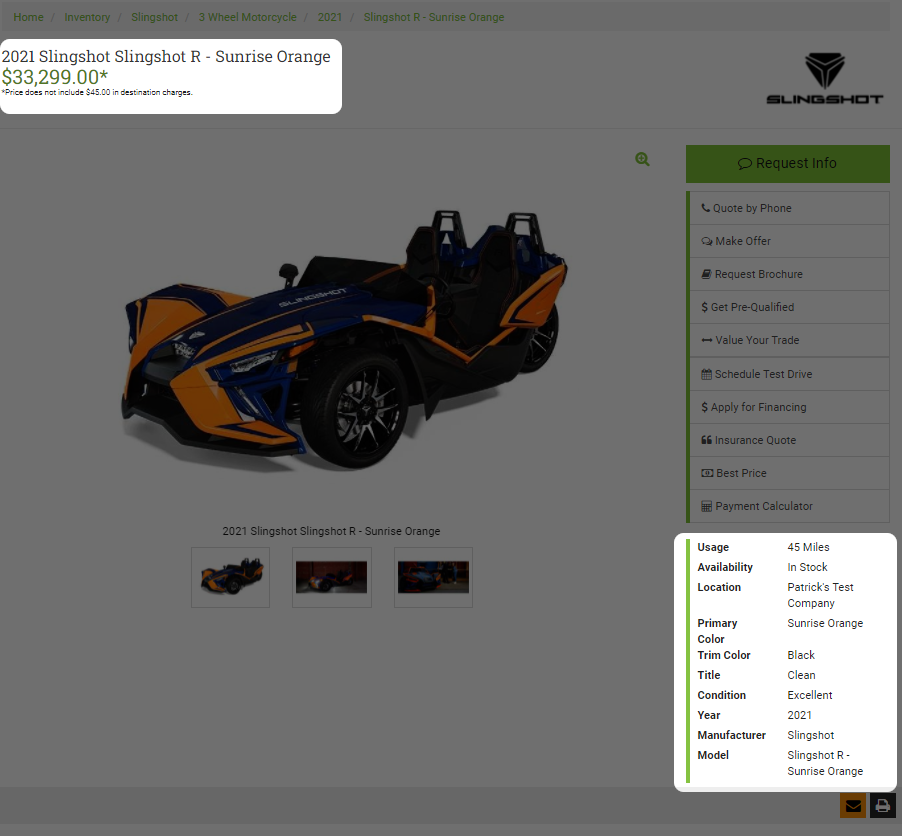 Price and Details sections highlight key Inventory details. Customers use Price and Details to decide what to buy. Price and Details also fulfill OEM requirements for MAP and destination charges.
Base Price, Sale Price, and Best Price can be set on a per-unit basis. For more see Sales on Major Unit Inventory.
Other Details are determined by the Inventory Item listing.
Forms and Buyer tools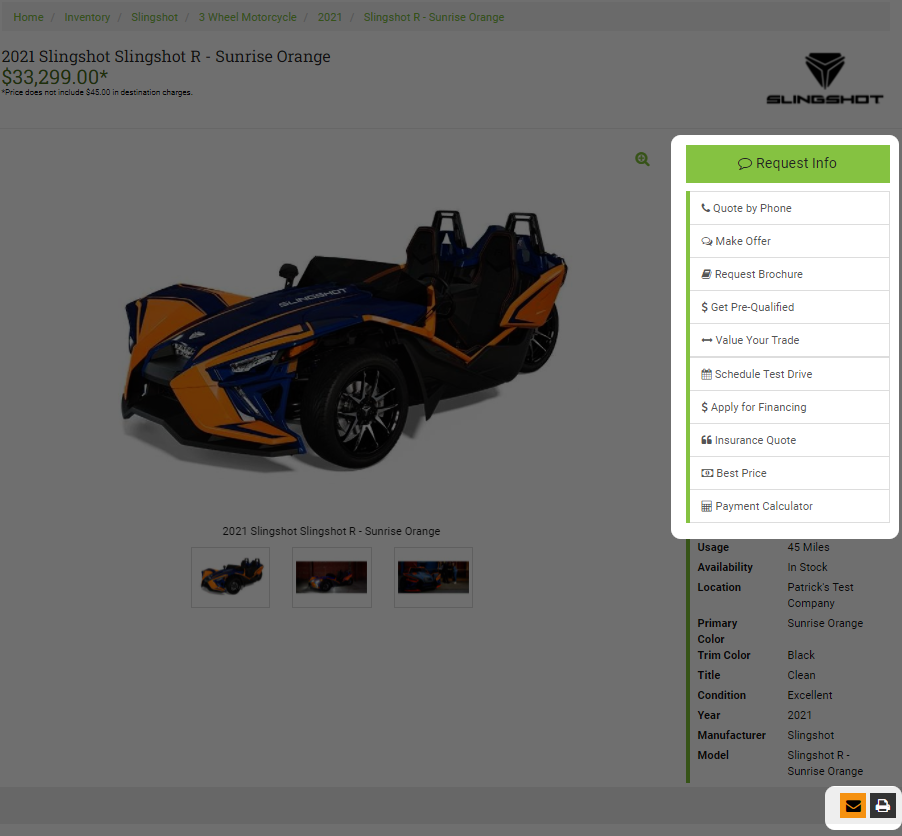 Forms and Buyer Tools let customers calculate costs, choose a contact form that suits their needs, or pull a dealer's contact information.
Standard forms available for a Unit Detail Page can be found here.

If you need form changes or customization you may reach out to Updates at

updates@arinet.com

or from your implementation specialist / account manager.

Business information can be updated under Store > Locations. In this example business information would be available under the Quote by Phone tab.
Product Data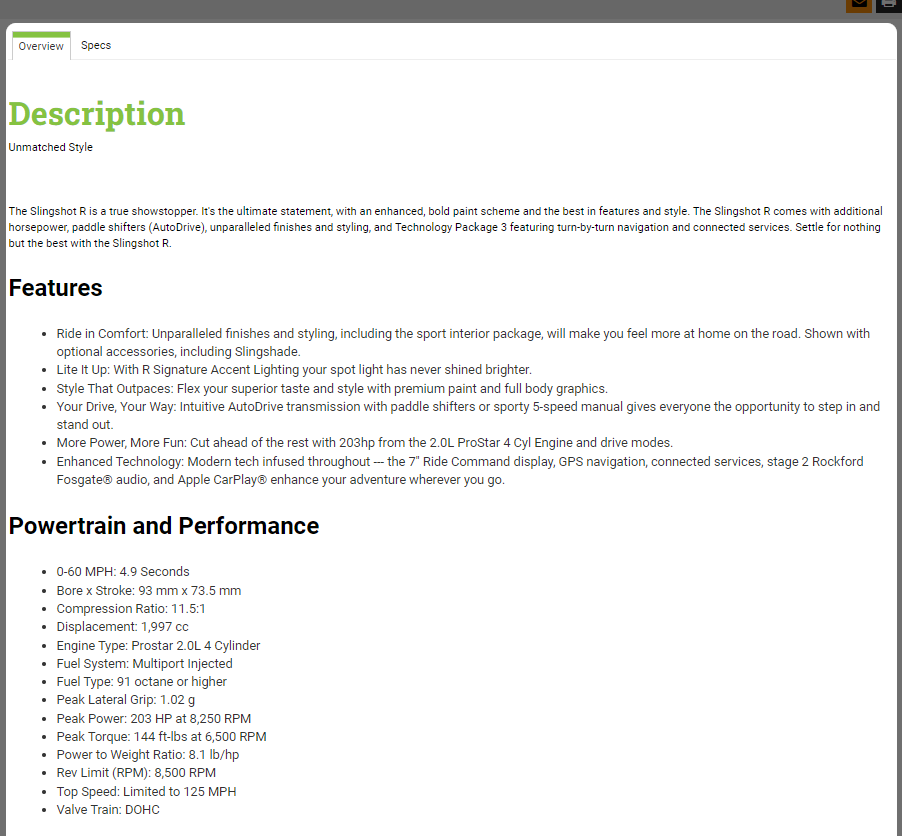 Important details like Key Features, Dealer Notes, Description, and Specifications are visible as you scroll.
Product details can be edited on Inventory Item creation. You may also add additional details at any time when editing Inventory Items. The Description, the Specs Table, Dealer Notes, and Insights are all editable within the Inventory Manager.
Breadcrumbs

Breadcrumb links at the top of the page offer easy access to nested parent categories, allowing customers to easily find related models.
Under the Hood
Our Inventory Vehicle and Equipment Display Page incorporates 3rd party tracking scripts, MAP rules, factory promotions and similar units to the one they are viewing to ensure our dealers and their customers are best served.
3rd party tracking scripts

Add other 3rd Party Tracking Scripts with the Tracking Component.

Read more on configuring Factory Promotions here
Tell us how to make it better.
Thanks for the feedback!